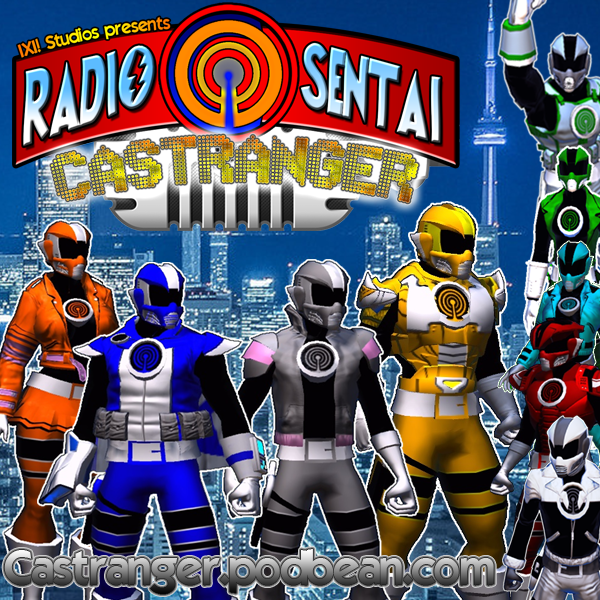 A squad of geeks armed with opinions and attitudes assemble every week to offer their unique blend of reactive comedy, seasoned critique, and thoughtful theorycraft after watching the weekly episodes of the Japanese tokusatsu superhero shows Kamen Rider and Super Sentai.
Episodes
Sunday Jul 03, 2016
Sunday Jul 03, 2016
The five core Casters (plus Silver Caster) unite to begin another theme month here on Castranger. Welcome to Ultraly, a month of Ultraman feature topics, because we promised Gar we would. First we talk about this week's Ghost, which involved some idol drama bullshit and Alan completing another character arc, then we talk about the end of Zyuoh The World's stint as a villain, and finally, for Ultraly, we watched episodes 1, 10, and the finale of the original, Ultraman 1966/Hayata. How does a 50-year old tokusatsu series hold up? Come find out! 
Casters Present: 
Red Blue Pink North Yellow Silver 
Required Viewing: 
Kamen Rider Ghost 37, 
Dobutsu Sentai Zyuohger 19, 
Ultraman (1966) 1, 10, 39
Saturday Sep 05, 2015
Saturday Sep 05, 2015
We are joined by both our first Skype guest, Navy Caster Crunchman, and our newest guest, Yellow Caster AutoGar, as we talk about this week's Drive and how it overflows with both laughs and feels, the debut of Kamen Rider Jun. Meanwhile in Ninningerland, Kinji completes his story arc in every way possible. Finally we talk about how charming and wacky the first three episodes of Ninja Sentai Kakuranger are... or should we say, the Ninninger prequel? 
Required Viewing: 
Kamen Rider Drive 44, 
Shuriken Sentai Ninninger 27, 
Ninja Sentai Kakuranger 1-3
Saturday Jun 27, 2015
Saturday Jun 27, 2015
With the departure of Black Caster from the main cast, North Caster takes the chair as we talk about the departure of Starninger and the debut of Surfermaru. With no Drive episode this week, we watched a few episodes of the 1974 rider series, Kamen Rider X. And holy SHIT is it amazing. And not JUST because it features Starfish Hitler! 
Required Viewing: 
Shuriken Sentai Ninninger 17, 
Kamen Rider X 1-3, 26