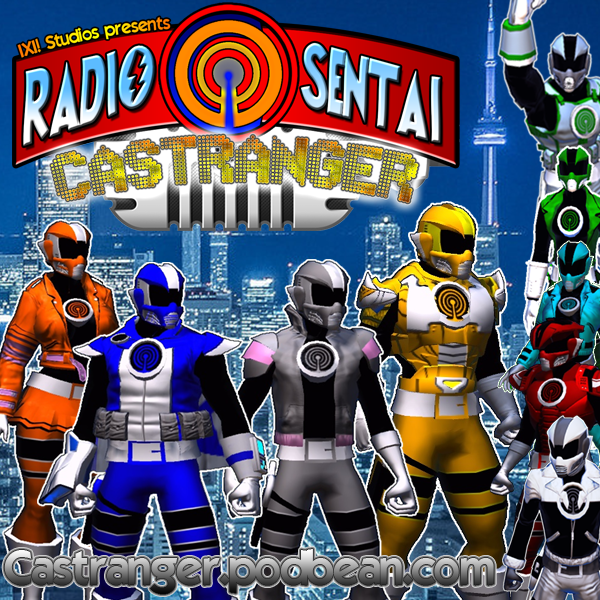 A squad of geeks armed with opinions and attitudes assemble every week to offer their unique blend of reactive comedy, seasoned critique, and thoughtful theorycraft after watching the weekly episodes of the Japanese tokusatsu superhero shows Kamen Rider and Super Sentai.
The members you can expect to hear on most of the episodes.
played by Christopher MacKinnon - 
Follow him on Twitter!
Technically the showrunner at the controls, Ichi is always the one to bitch about belt mechanics and is definitely in the running for loudest opinions.
aka Ultra-Pink Caster on Ultraranger
formerly Pink Caster Litrid / Pink Caster LANE
played by Lane Bethune - 
Follow him on Twitter!
Lane's opinions on what qualifies as his favorite change with the season, but his enthusiasm for everything is unmatched. #commentsforLane
formerly Yellow Caster AutoGar, Gold Caster II Garza, and Ultra-Yellow Caster on Ultraranger
From parts unknown, Gar has proven to be the closest thing to Phillip's library-like encyclopedia of toku knowledge. He's always around to provide #confirmination on factoids.
Super shy fan-turned-caster, recent addition to core cast Emily has her surprising moments of comedy gold and has more than once named an episode.
Outer Casters 
Members who aren't on every single show but make their appearances when appropriate. 
played by Evan Ross

- Follow him on Twitter! 


The be-hatted one often to throw in a pretty solid thesis into our theorycrafting discussions. Either that or he's completely quiet and on his 3DS.
One of our on-again-off-again Sixth Rangers and tied for the closest among us to a legit movie critic, Cel is quick with the wit and heavy with the trauma. We think he may kill us all. 
Formerly Green Caster (Ichigo)
and Silver Caster 
He started as a founding member, moved away, and occasionally guests or edits. Definitely in the running for loudest. 
Formerly Black Caster 
played by Kevin Heimann - 
Follow him on Twitter!
Purchaser of all movie exclusives, and one of the founding members, he now only rarely pops in, but contributes to the Facebook page's memery. 
played by Paul Marzec -
Follow him on Twitter!
Starting out as a Bulk-and-Skull-esque Hipster Caster, he took over the Green powers from Overkill when he left. Paul rivals Cel for top actual movie critic and occasionally stops by. 
Special Guest Casters 
 Bard Caster 

: Derek Burrows, aka
Derek the Bard 
 DX Caster 

: Robert Hoang, aka
Zeron Xepher 
Friends of the Casters 
 Quantum Caster, TheReccher

 :
Members of The Cast, Our Fans 
 Omega Caster, Biffalo 

: 
SM04
If you want to be a guest on 
Radio Sentai Castranger
, contact SuperIchi on Twitter.