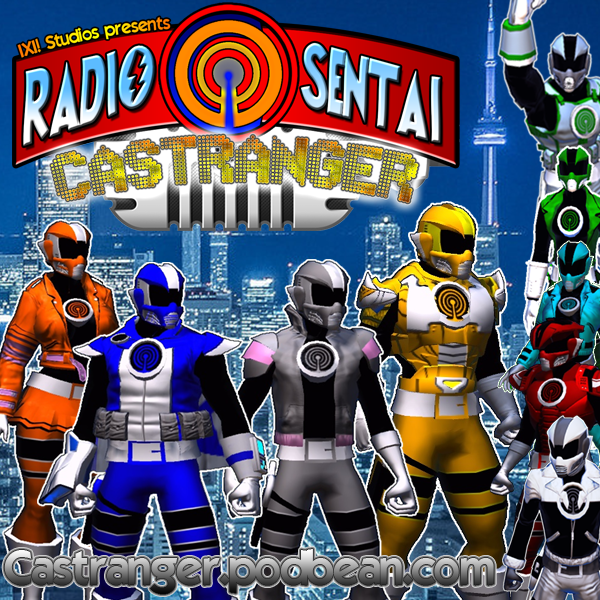 A squad of geeks armed with opinions and attitudes assemble every week to offer their unique blend of reactive comedy, seasoned critique, and thoughtful theorycraft after watching the weekly episodes of the Japanese tokusatsu superhero shows Kamen Rider and Super Sentai.
ONGOING SHOWS 
RADIO SENTAI CASTRANGER
is our primary production, a weekly podcast run by five+ members of the Torontonian media brand 
IXI! Studios
. We get together every week after watching the ongoing Kamen Rider and Super Sentai shows and discuss our reactions, opinions, and theories to not only the ongoing episodes, but the movies and specials that come out as well. Most weeks we also toss in some sort of feature topic or debate such as favorite "blank". 
EXTRA! EXTRA! CASTRANGER
 is a show we segmented off from the regular Radio Sentai Castranger program specifically because we always talk about the latest news and spoilers, and listeners to our main program may not always want to hear them. So they have been separated for your convenience! 
KAIJU SENTA
I
ULTRARANGER
is the show where Yellow Caster & Pink Caster team up and become Ultra-Casters! They talk about Ultraman shows & movies while also going into deep conversations about Ultraman and Godzilla news.
SIDE SHOWS 
HEROCAST
 is a superhero-themed tabletop campaign run by Savage Caster and played by the other Castrangers, set in a world of in-training superheroes.
MY FRIENDS THINK THEY'RE FUNNY
 is a behind-the-scenes bit featuring the random nonsense we talk about immediately before launching into a proper Castranger episode. 

ENTER THE AMAZON
 is the sideshow headed by Pink Caster Litrid, where he, Blue and Yellow Casters review the webseries Kamen Rider Amazons. 

NICE, FRIENDLY CHATRANGER
 is where we sit down with a special guest specifically for an interview with them.
SILVER MEDAL
 is a show pioneered by Silver Caster Overkill (now Mercury Caster) where we talk about Power Rangers, because that's really where our fandoms all began. 
THROWING TWO STARS
 is the YouTube-exclusive video vlog series by both Yellow and Pink Casters where they discuss Power Rangers Ninja Steel in a format less scripted than ever before.