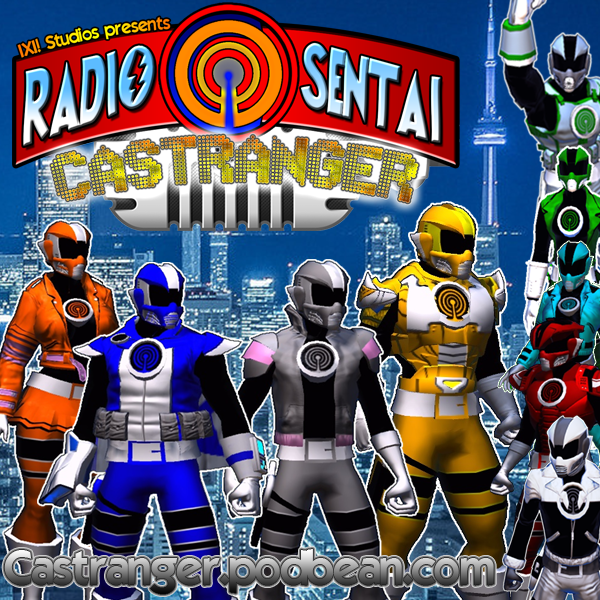 A squad of geeks armed with opinions and attitudes assemble every week to offer their unique blend of reactive comedy, seasoned critique, and thoughtful theorycraft after watching the weekly episodes of the Japanese tokusatsu superhero shows Kamen Rider and Super Sentai.
Episodes
Saturday Aug 23, 2014
Saturday Aug 23, 2014
Quite possibly our best and longest episode of Castranger to date. Bravo works the blade and fires a nut shot. 
How we WANT Gaim to end, and how we think it might end. 
Is Roshuo God? Is Sagara the Devil? 
The ToQgers lose their Rainbow Connection. 
The Heisei vs Showa movie has some entertaining moments, but the overall story, not to mention the ending, has some... PROBLEMS.
Required Viewing: 
Kamen Rider Gaim 41, Ressha Sentai ToQger 24, 
Heisei Rider vs. Showa Rider: Kamen Rider Taisen feat. Super Sentai
Sunday Aug 10, 2014
Sunday Aug 10, 2014
Seeing as no episode of Gaim or ToQger aired last week, this time on Castranger, Blue, Pink, and Silver Casters get together and talk about the Kyoryuger 100 Years Later movie, featuring Uppy, the greatest bowler in all of the year 2114. We then talk about our favorite moments in the Kyoryuger series proper. Red and Black Casters bail because they don't like Kyoryuger.
Monday Apr 07, 2014
Monday Apr 07, 2014
On this week's Castranger, series combine! We discuss the Gaim/ToQger special, and the Kyoryuger/Gobuster movie! Oh, and Paul is slowly usurping Dave's powers.
Required Viewing
Ressha Sentai ToQger VS Kamen Rider Gaim: Spring Break Gattai Special, 
Zyuden Sentai Kyoryuger VS Tokumei Sentai Gobusters: Great Dinosaur War